Fitted Tank Top Skin Jersey Abstract Medusa (double-sided)
---
Medusa Fitted Tank Top Skin Jersey Designed by Artist Ane Howard
I hope you like my fitted tank top as much as I do! It's based on  Ane's painting Abstract Medusa.
The artist has added a photo of the painting too. Pack and go! It does not wrinkle! Great for traveling and cruise!
These fitted tank tops are so versatile. The peach skin jersey fabric is super soft and wicks moisture to keep you comfortable. You'll want these tops for your Saturday bike ride, and your lazy Sunday at home.
• Printed fabric made from peach skin jersey fabric, 92% polyester, 8% spandex
• Choose double-sided print in the peach skin jersey.
• Every tank top is printed and sewn by hand in Montreal, Canada
• Vibrant print will never fade with wear or washing
• Machine wash cold with a phosphate-free detergent, do not bleach, tumble dry low.
Production Time

Usually 5 to 8 business days then it is shipped by express mail.
ABOUT THE ARTIST
California-resident and Montreal-born artist Ane Howard, an abstract figurative mixed media artist, tells an emotional and imaged story in the portraits and landscapes she paints. Using deconstructed form born out of the expressionist movement, bold paintbrush, and contrasting hues of colors, she imbues each brushstroke with meaning to evoke moods and ideas. Following a lifelong exploration of different art forms, Ane is dedicated to full-time painting. Speaking about her passion for oil painting, she said, "Nothing has ever fulfilled my need for self-expression the way painting does." Ane's vivid oil paintings have been shown at various Art Galleries in California, such as the well-known Five 3 Gallery, Claudia Chapline Contemporary Art Gallery, Teri Lang Studio, and the Marin Society Artists, and Art Works Downtown. Her artwork has also been exhibited in the London Tube and Berlin Metro as part of Public Art. Her work is owned by collectors in North America and Europe. Ane's artwork at the International Art Museum of America in San Francisco. 

Production Time
It can take up to 14 business days depending on how many other items you have in your order and then delivered express mail to your door.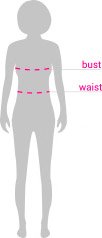 Woman's

size USA

XS

0 - 2

S

4 - 6

M

8 - 10

L

12 - 14

XL

16

Bust
32"
34"
37"
40"
42"
Waist
24"
26"
28"
31"
33"
All measurements in accordance with US Standard Sizing